Althea Thauberger
Althea Lorraine
8 February to 24 March 2018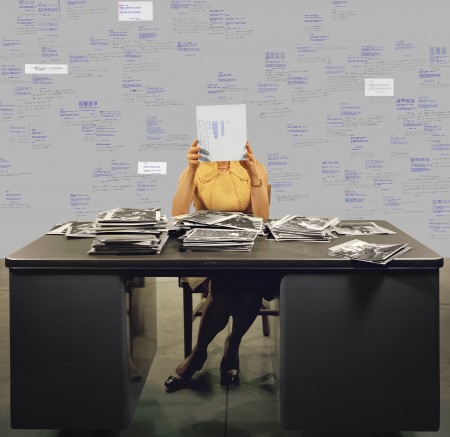 During the pivotal post war period, the National Film Board's 'Still Image Division' administered the development of two significant centennial projects: an ambitious social documentary and architectural project entitled, The People Tree for Expo67's Canadian Pavilion and the photo publications, Call Them Canadians and Ces Visages qui sont un pays. Instigated by executive producer Lorraine Althea Monk, these intersecting endeavours articulated the federal government's shifting views on how to visualize its growing population.

Composed of seemingly candid photographic moments, the images included in these projects expressed Canadians at work or at play—with statistically accurate diversity. As art historian Carol Payne has noted, "the faces [reflected] an emergent federal bilingual and multiculturist rhetoric" that were "packaged to serve more readily as idealized national types." Rather than portray particular individuals—individuals with names and specific subject positions—the images combined to represent an idealized self-portrait of the nation at a time when Canada was trying to "posit new models of normative citizenry" in opposition to British imperialism. However, alongside their utopian ambitions, these projects reinforced an aggressive and assimilative form of government-sanctioned multiculturalism that, as many Canadian cultural theorists would posit, worked to maintain a white, middle-class center. So that, in effect, by engaging the concept of 'mosaic', the images worked hand-in-hand with the state to conceal real practices of discrimination and bias across race, culture, and socio-economic difference.

When most women were excluded from positions of power and expressions of public voice, Monk emerged as a vitally effective architect of Canadian national identity. As overseer of these projects, she skilfully exploited photography's unique capacity to both depict and construct. Likewise, through numerous portraits, she used the medium to position herself at the center of Canada's changing cultural landscape. By working selectively from inside the NFB's archive, Althea Thauberger interrogates Monk's position of influence and photography itself as an ideological and technical apparatus capable of conflating layers of time, expression, and cultural forces. Posing as Monk, Thauberger reimagines herself as a woman who employed images to imagine a nation as well as her own role within it.

Althea Lorraine extends the artist's experimental video project L'arbre est dans ses feuilles [The Tree Is in Its Leaves]. Featuring poems commissioned by four emerging Montréal writers—Danica Evering, Natasha Kanapé Fontaine, Kama La Mackerel, and Chloé Savoie-Bernard—and reflections written by cultural historians Andrea Kunard and Carol Payne, the film was produced for In Search of Expo 67 at the Musée d'art contemporain de Montréal.
The artist would like to acknowledge the source materials from the Canadian Photography Institute at the National Gallery of Canada and thank Andrea Kunard for her support.