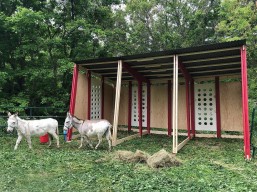 Gareth Long: Travels with Two Donkeys in the Valley
Don River Valley Park, Toronto
June 2, 9, 16 & 23, 2018
In this new public commission, undertaken in partnership with the Donkey Sanctuary of Canada, artist Gareth Long will care for two donkeys from the Sanctuary each Saturday throughout the month of June, taking them for short walks along the Lower Don Trail.

Long has introduced the motif of the donkey in many of his previous works, as a way of engaging with methods of education and the processes of learning. Culturally speaking, donkeys have a long history as a motif in art and literature, typically representing stupidity, the "ass" or the fool; but they are also often included to represent moments of metamorphosis.

FrameWork 5/18
Jessica Karuhanga on Oliver Husain
An unannounced arrival is our point of departure. We enter and exit through the same frame. ...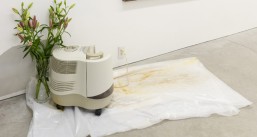 FrameWork 4/18
John Nyman on Scott Lyall
... Maurice Merleau-Ponty's "Eye and Mind," his last published essay, makes a remarkable claim on behalf of painting and the picture in general. In the first place, he distinguishes sharply between the phenomenological world of images and the techno-scientific universe, in which appearance is only the residue of objects more effectively manipulated at the level of their materials. While science, in other words, bases all of vision on the sense of touch, only phenomenology can understand our lived experience of seeing as "having at a distance." ...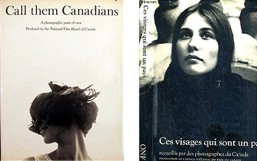 FrameWork 2/18
Lauren Fournier on Althea Thauberger
the reparative practice of re-performing
Legend:

- - -> performativity
~~~ interpellation
(a) re-performing
In
Althea Lorraine,
Althea Thauberger stages a performative intervention into the NFB's archives, fixating on the figure of Lorraine Althea Monk.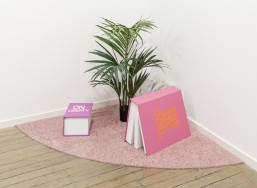 FrameWork 1/18
Esmé Hogeveen on Krista Buecking
After a busy day of keyboard tapping, my hands just need a rest. Or perhaps it's my mind that needs a holiday. Take a break from jumpstarting a new habit by saluting an old one. Fingers cruise me to a recently de-activated social media platform and my eyes glaze over at the incomprehensibly blank screen. It's January, so self-care takes the form of vitality and not schlumping. Hello world! - - perhaps just one post to indicate my good health and intentions . . . and then maybe one more to imply my self-awareness - - I don't want to appear cocky! Ahem - -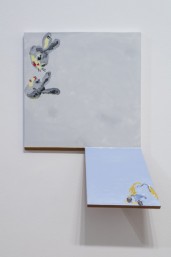 FrameWork 11/17
Katie Bethune-Leamen on Sandra Meigs
The canny valley.[1]
Forms before form is an idea in your head.
Disappearance. Trace.
Tappity-tap. Automatons.
Making out with a rock. vs. Making out with The Rock.[2]
---
[1] Chatting with my friend, David Court, about CG Sean Young in Blade Runner 2049 (2017) and he says "like there's no more uncanny valley." And we were both like "yeah, a canny valley?"
[2] Same conversation. Same friend. I told him that the previous night I had a dream in which I'd made out with The Rock. I could tell by David's response to the statement that he'd misheard me as saying "made out with a rock." He was totally disappointed when I clarified.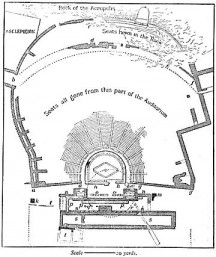 FrameWork 9/17
Danica Evering on
Rhonda Weppler and Trevor Mahovsky
The words cast and setting are drawn out of interests of Weppler and Mahovsky: molds and plaster casts, gypsum setting to hardened, copper foil impressions cast over objects, anthropomorphism and the interactions between objects as a cast of characters, casting down paint and light, the setting of the gallery space itself. I frame those interests and the works themselves in relation to the reflexive dynamic between those two words and the push and pull between them in four sets, each framed by a diagram image, to consider ethics, lineages, context, and mattering. The text has been laid out so it can be printed double-sided and then each page folded in half as a set.